6. 11. 2019 - Spin off Panel Discussion
6. 11. 2019 - Spin off Panel Discussion
Second all-academic meeting of TTO community and their supporters
Theme

Spin Off - different perspectives

Content

What are the foundations for successful Spin off? How important is external advice?
How does one find the perfect mix of insiders and outsiders?

Join our interactive panel discussion and find out much more! Meet our guests:

Dr. Thorsten Lambertus - AHEAD | The Fraunhofer Venture
Rolph Segers, MSc. - TNO, Tech Transfer office, The Hague
Ing. Lucie Hustolesová - Head of Startup Acceleration, CzechInvest

Is a detailed roadmap of a planned Spin Off the only basis for success? How does one find the perfect mix of "minds" and "managers"? How important is external advice and coaching in the academic field? There are many difficulties when setting up a Spin Off, but we can learn from others how to overcome the majority of these obstacles. We will look inside the heart of Spin Offs and find our answers there. The best points will prepare the ground for greater discussion about Academic Spin Offs and will form precautionary suggestions and recommendations for the Czech Academy of Science.

For whom

For academics, scientists, technology transfer managers and those who are interested in Spin Off

Type

When/Where

6. November 2019
Národní 3, room no. 205
Contact: Monika Kukol′ Sochorová, +420 731 663 879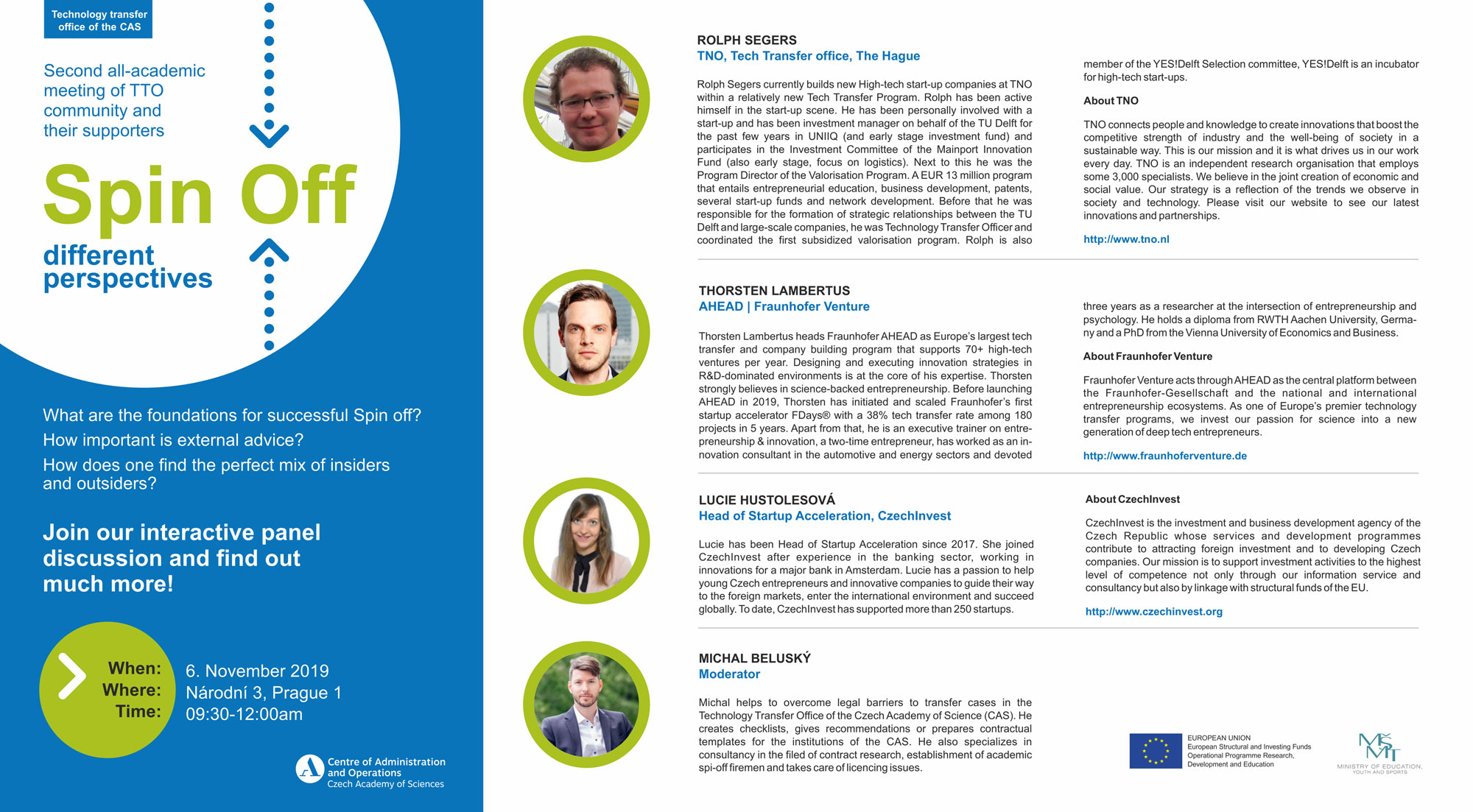 Speakers
ROLPH SEGERS
 

TNO, Tech Transfer office, The Hague

Rolph Segers currently builds new High-tech start-up companies at TNO
within a relatively new Tech Transfer Program. Rolph has been active
himself in the start-up scene. He has been personally involved with a
start-up and has been investment manager on behalf of the TU Delft for
the past few years in UNIIQ (and early stage investment fund) and
participates in the Investment Committee of the Mainport Innovation
Fund (also early stage, focus on logistics). Next to this he was the
Program Director of the Valorisation Program. A EUR 13 million program
that entails entrepreneurial education, business development, patents,
several start-up funds and network development. Before that he was
responsible for the formation of strategic relationships between the TU
Delft and large-scale companies, he was Technology Transfer Officer and
coordinated the first subsidized valorisation program. Rolph is also
member of the YES!Delft Selection committee, YES!Delft is an incubator
for high-tech start-ups.

About TNO

TNO connects people and knowledge to create innovations that boost the
competitive strength of industry and the well-being of society in a
sustainable way. This is our mission and it is what drives us in our work
every day. TNO is an independent research organisation that employs
some 3,000 specialists. We believe in the joint creation of economic and
social value. Our strategy is a reflection of the trends we observe in
society and technology. Please visit our website to see our latest
innovations and partnerships
THORSTEN LAMBERTUS
 

AHEAD | Fraunhofer Venture

Thorsten Lambertus heads Fraunhofer AHEAD as Europe's largest tech
transfer and company building program that supports 70+ high-tech
ventures per year. Designing and executing innovation strategies in
R&D-dominated environments is at the core of his expertise. Thorsten
strongly believes in science-backed entrepreneurship. Before launching
AHEAD in 2019, Thorsten has initiated and scaled Fraunhofer's first
startup accelerator FDays® with a 38% tech transfer rate among 180
projects in 5 years. Apart from that, he is an executive trainer on entrepreneurship
& innovation, a two-time entrepreneur, has worked as an innovation
consultant in the automotive and energy sectors and devoted
three years as a researcher at the intersection of entrepreneurship and
psychology. He holds a diploma from RWTH Aachen University, Germany
and a PhD from the Vienna University of Economics and Business.

About Fraunhofer Venture

Fraunhofer Venture acts through AHEAD as the central platform between
the Fraunhofer-Gesellschaft and the national and international
entrepreneurship ecosystems. As one of Europe's premier technology
transfer programs, we invest our passion for science into a new
generation of deep tech entrepreneurs.
LUCIE HUSTOLESOVÁ
 

Head of Startup Acceleration, CzechInvest

Lucie has been Head of Startup Acceleration since 2017. She joined
CzechInvest after experience in the banking sector, working in
innovations for a major bank in Amsterdam. Lucie has a passion to help
young Czech entrepreneurs and innovative companies to guide their way
to the foreign markets, enter the international environment and succeed
globally. To date, CzechInvest has supported more than 250 startups.

About CzechInvest

CzechInvest is the investment and business development agency of the
Czech Republic whose services and development programmes
contribute to attracting foreign investment and to developing Czech
companies. Our mission is to support investment activities to the highest
level of competence not only through our information service and
consultancy but also by linkage with structural funds of the EU.
MICHAL BELUSKÝ
 

Moderator

Michal helps to overcome legal barriers to transfer cases in the
Technology Transfer Office of the Czech Academy of Science (CAS). He
creates checklists, gives recommendations or prepares contractual
templates for the institutions of the CAS. He also specializes in
consultancy in the filed of contract research, establishment of academic
spi-off firemen and takes care of licencing issues.