Exhibitions
Galerie Věda a umění (Science and Art Gallery)
The gallery located in the main building of the Czech Academy of Sciences is a unique place which brings together science and art, following in the footsteps of the Czech Academy of Sciences and Arts founded in 1890 thanks to the support of Czech architect and builder Josef Hlávka. Visitors have a unique opportunity to explore not only individual facets of art, but also to delve into the hidden aspects of science by way of popular educational exhibits, artefacts, and works of art.
Open weekdays 10 AM – 6 PM.
Admission to the exhibitions is free.
Location of the gallery: Headquarters of the Czech Academy of Sciences, Národní 3, Prague 1 – entrance from the foyer.
---
Current exhibition
Photogenic Science | Věda fotogenická 2022
The exhibition presents the winning photo entries of the annual Photogenic Science contest, organised by the CAS as an in-house competition, where CAS employees can submit their entries capturing the aesthetics of science amid the daily goings-on of researchers and the world of research. Apart from the main category, this year's edition comprised the "Scientists and adventure" category and the newly added "video" category. All entries can be viewed here, the shortlisted photos here.
The exhibition is on view at the CAS headquarters (Národní 3, Prague 1) at the Science and Art Gallery from 30 November 2022 to 31 January 2023. Every weekday from 10 AM to 6 PM. Free admission.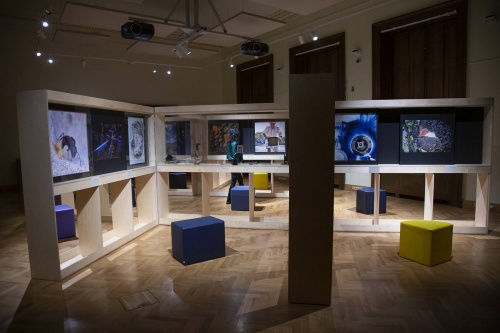 ---
Contact information
Johana Studničková
Curator
Centre of Administration and Operations of the CAS
Division of External Relations – Public Outreach Department
Národní 1009/3, 110 00 Prague 1
e-mail: studnickova@ssc.cas.cz
phone: +420 221 403 43
mobile: +420 730 598 533

2022 | Past Exhibitions
Aug–Nov 2022 | Czechoslovakia in the Orient: The Orient in Czechoslovakia 1918–1938
The exhibition presented the scientific, political, and economic relations of interwar Czechoslovakia with the vast territories and countries spanning the Middle East and the Far East (East and Southeast Asia). It was on view at the CAS Science and Art Gallery (Galerie Věda a umění) in Prague from 23 August 2022 to 6 November 2022. During the Week of the Czech Academy of Sciences (31 October – 6 November 2022), it was also open on weekends.